Regular price
$239.00 USD
Regular price
Sale price
$239.00 USD
Unit price
per
Sale
Sold out
About Shipping

The following shipping rate applies only to purchases made from IQUNIX.com. 

 Regions

Shipping Rate

North America

$25 (DHL)

Puerto Rico

$38

 (DHL)

UK

$29

 (Standard)

EU

$39 

 (DHL)

AU/NZ

$49 (DHL) or $25 (standard)

AISA

$19 (FedEx or standard)

 
NOTE:

The price provided is for standard package packaging and shipping for a single set or kit. If you purchase multiple units or additional accessories, the shipping cost will be based on the estimated weight of the final package. The actual shipping cost will be displayed during checkout when you enter the shipping address.
The shipped package does NOT include any local taxes or duties. Customers are responsible for any applicable customs fees or related charges imposed by their local authorities.

Available shipping countries:

North America: Canada, Mexico, United States,
Europe: United Kingdom, Austria, Belgium, Bulgaria, Croatia, Cyprus, Czechia, Denmark, Estonia,
Finland, France, Germany, Greece, Hungary, Ireland, Italy, Latvia, Lithuania, Luxembourg, Malta, Netherlands, Norway, Poland, Portugal, Romania, Slovakia, Slovenia, Spain, Sweden, Switzerland
Oceania: Australia, New Zealand
Aisa: Indonesia, Japan, Malaysia, Philippines, Singapore, South Korea, Thailand, Vietnam, China



Warranty Policy

IQUNIX custom mechanical keyboard comes with a one-year hardware(PCB) warranty from the date of purchase. This warranty covers any defects in hardware under normal use.

If there are any defects related to the craftsmanship of the keyboard, please contact us within 15 days of receiving the keyboard for us to address the issue.

Learn more details: Warranty Policy
Refund Policy

For Group Buy items, order cancellations are allowed before the end of the group buy. However, once the group buy ends, orders cannot be canceled unless we cancel the project.
Since GB items are limited in order quantities and production time, we are unable to accept random cancellations.

Return and Refund of the product also depend on the WARRANTY of the product. If the return is deemed appropriate by our staff (such as the wrong product received, the unsolvable issue occurred, etc), we'll assist to offer return procedures and addresses. We do not accept a random return without any notice. If you do return the products randomly, we will not offer any refund.

Learn more details, please read Refund Policy
View full details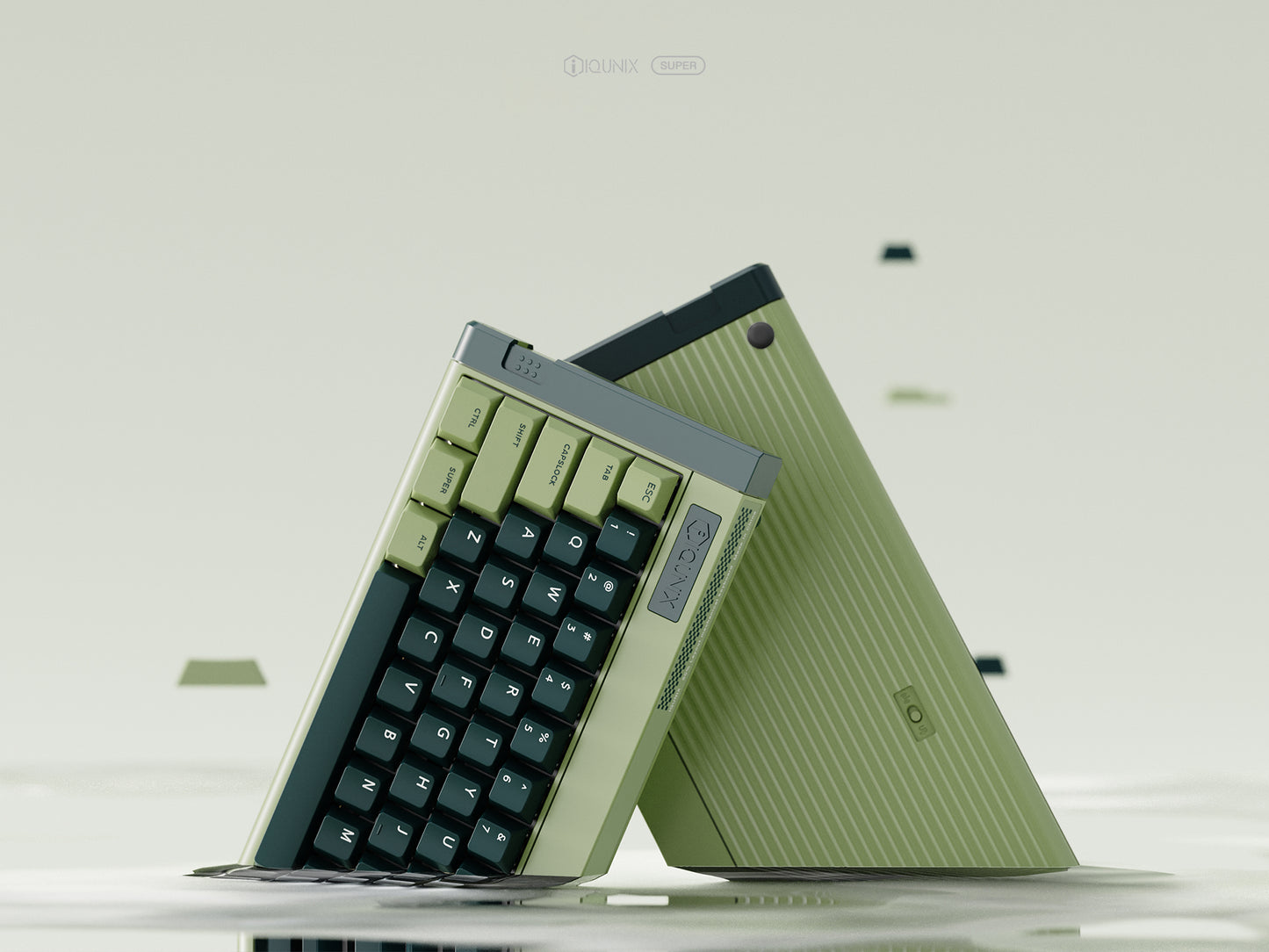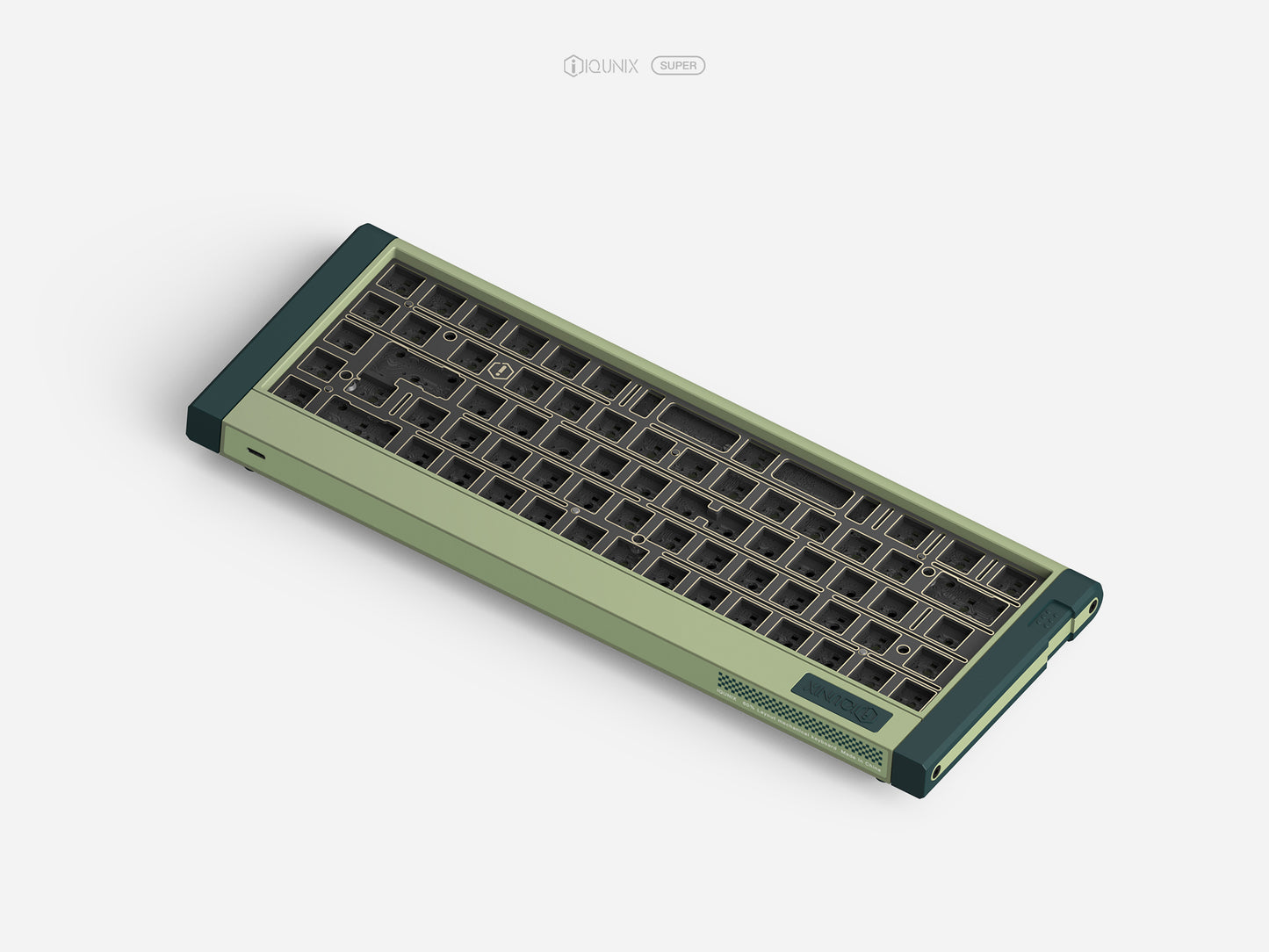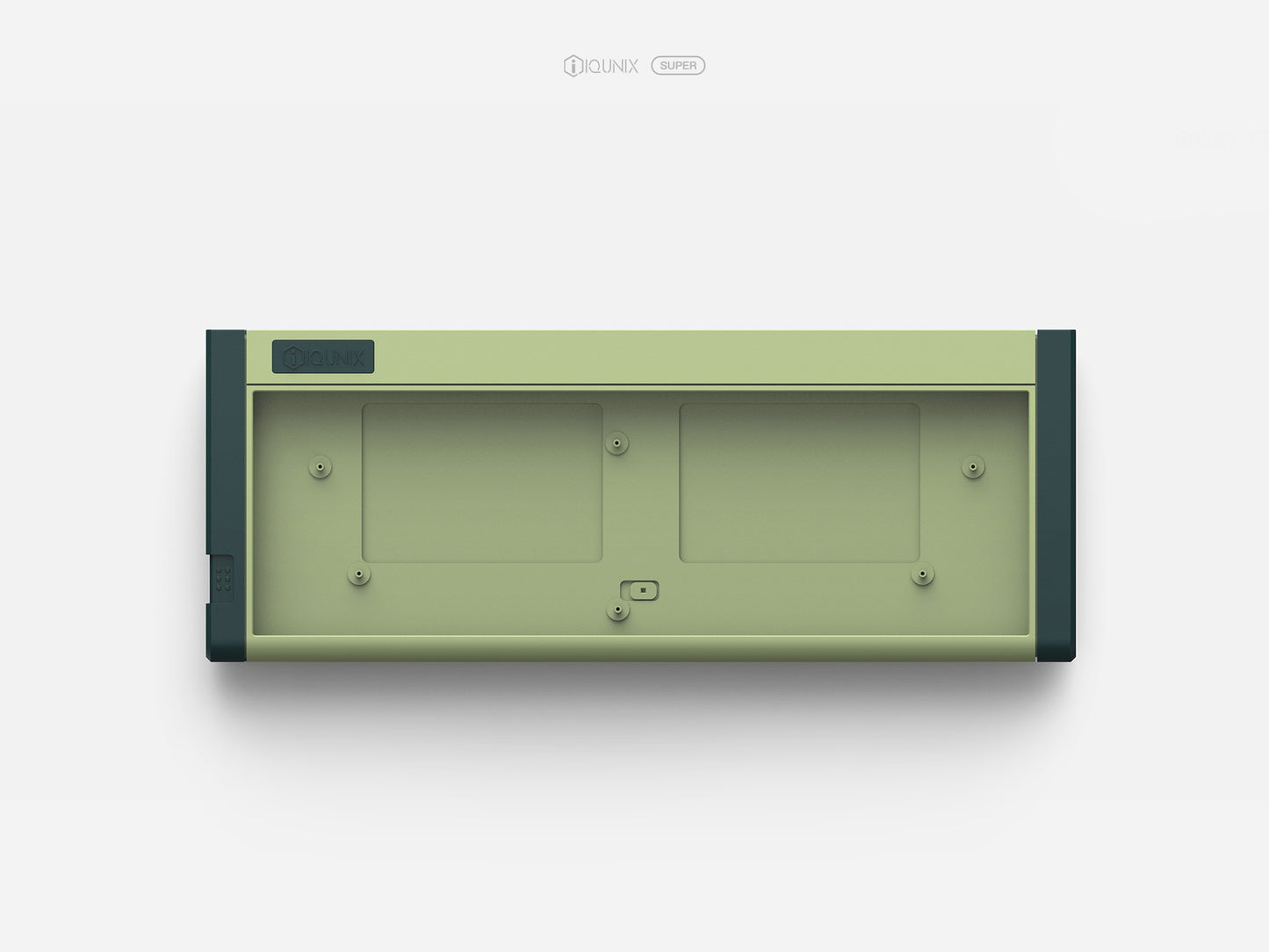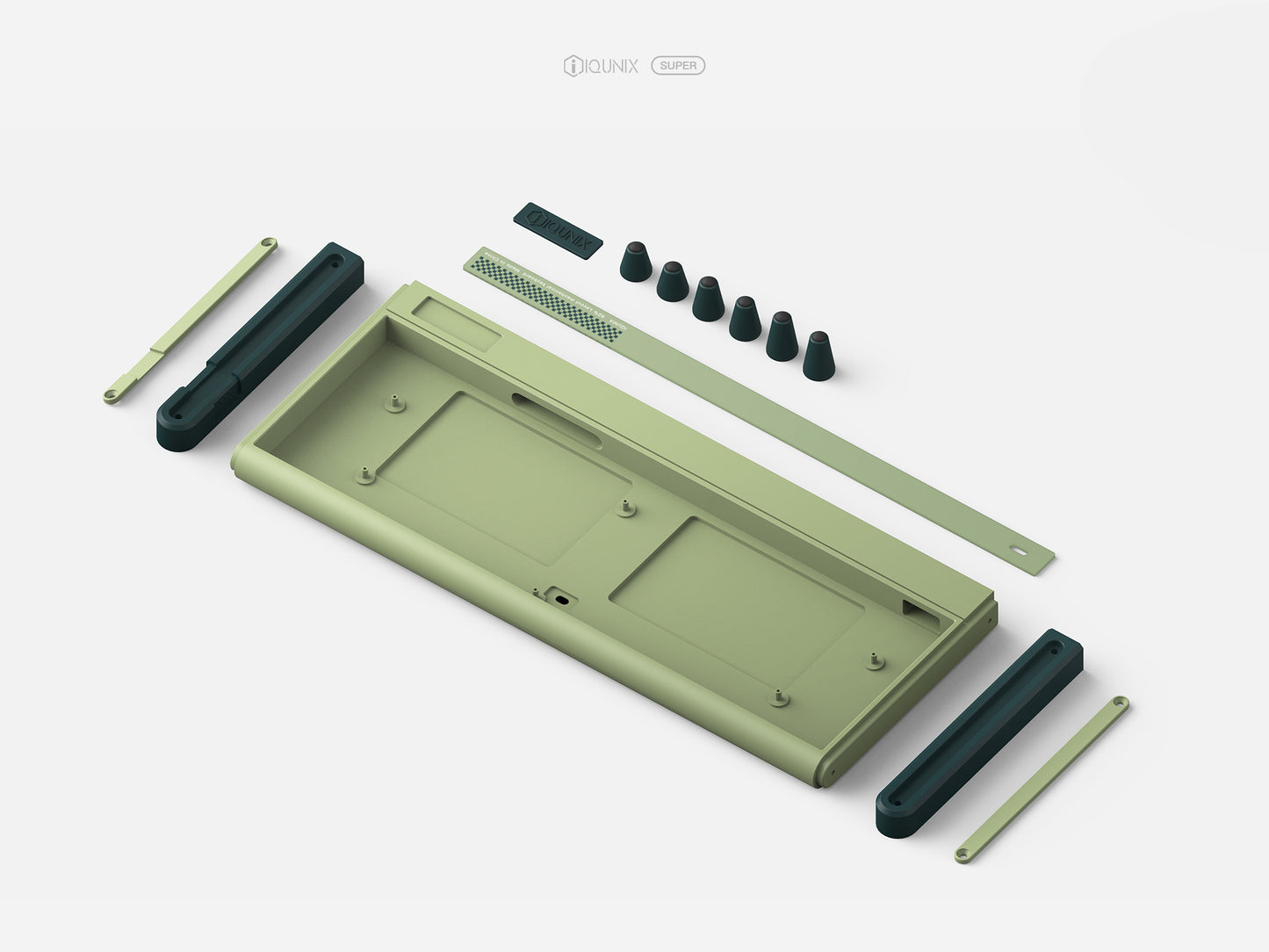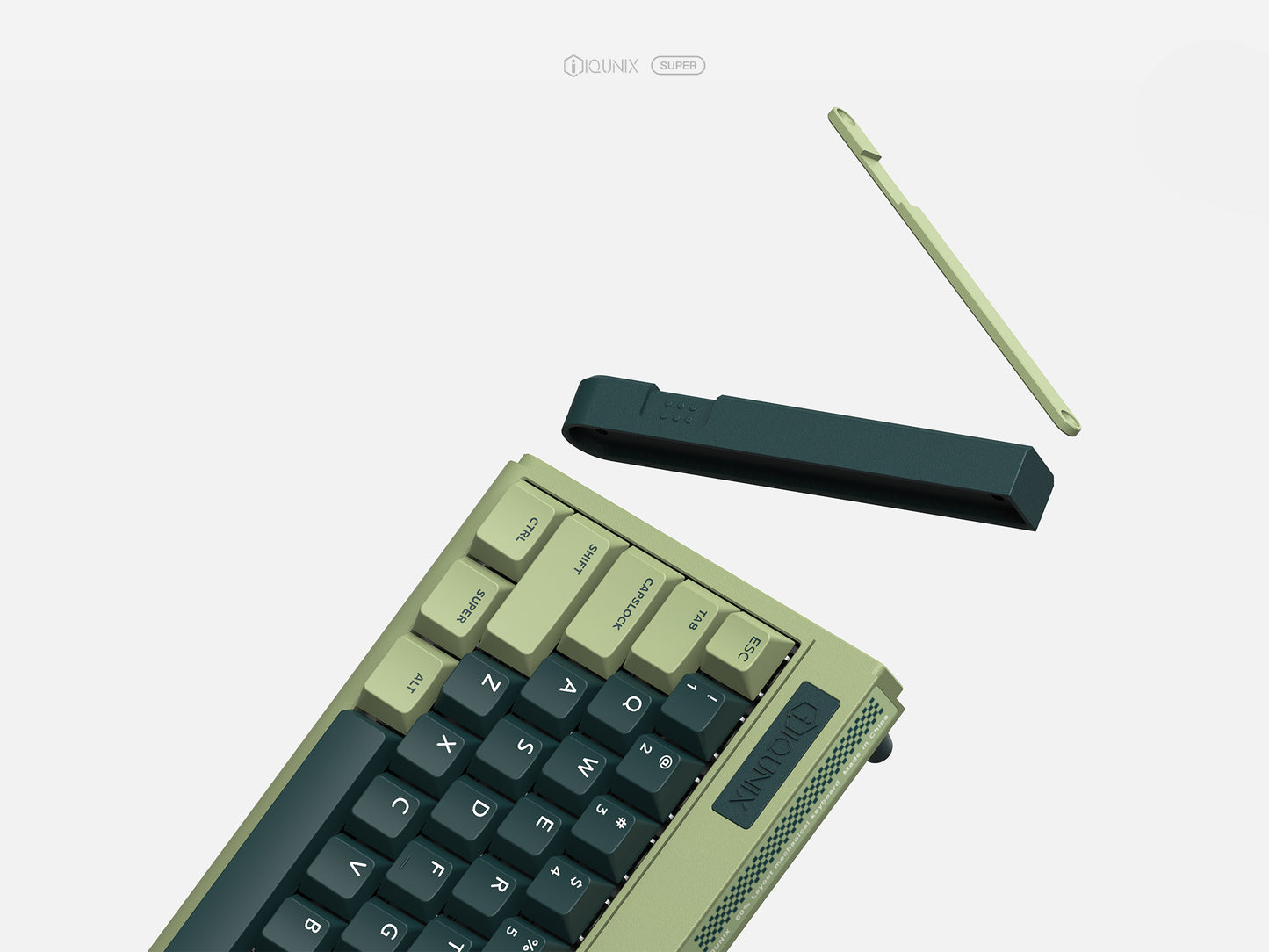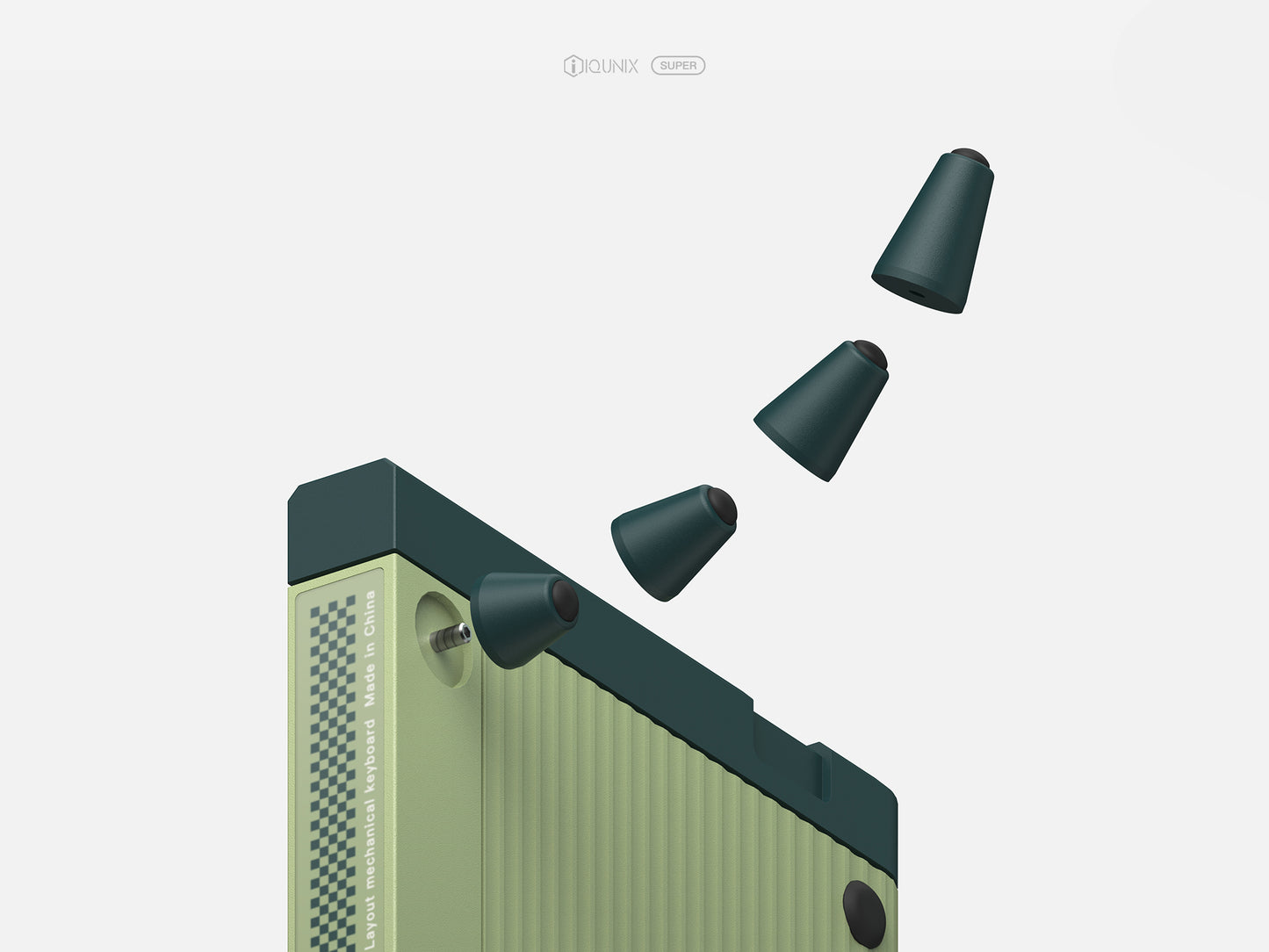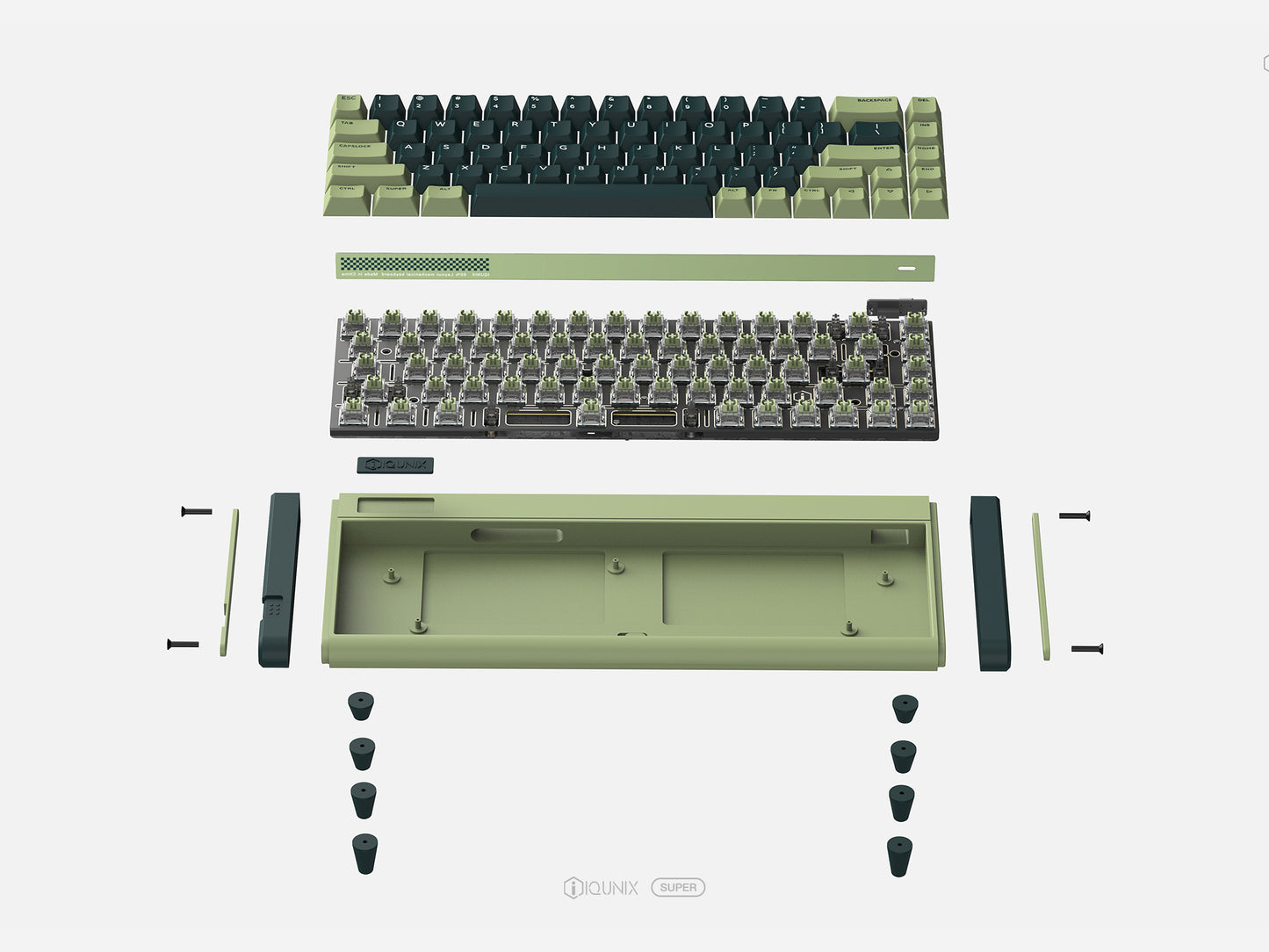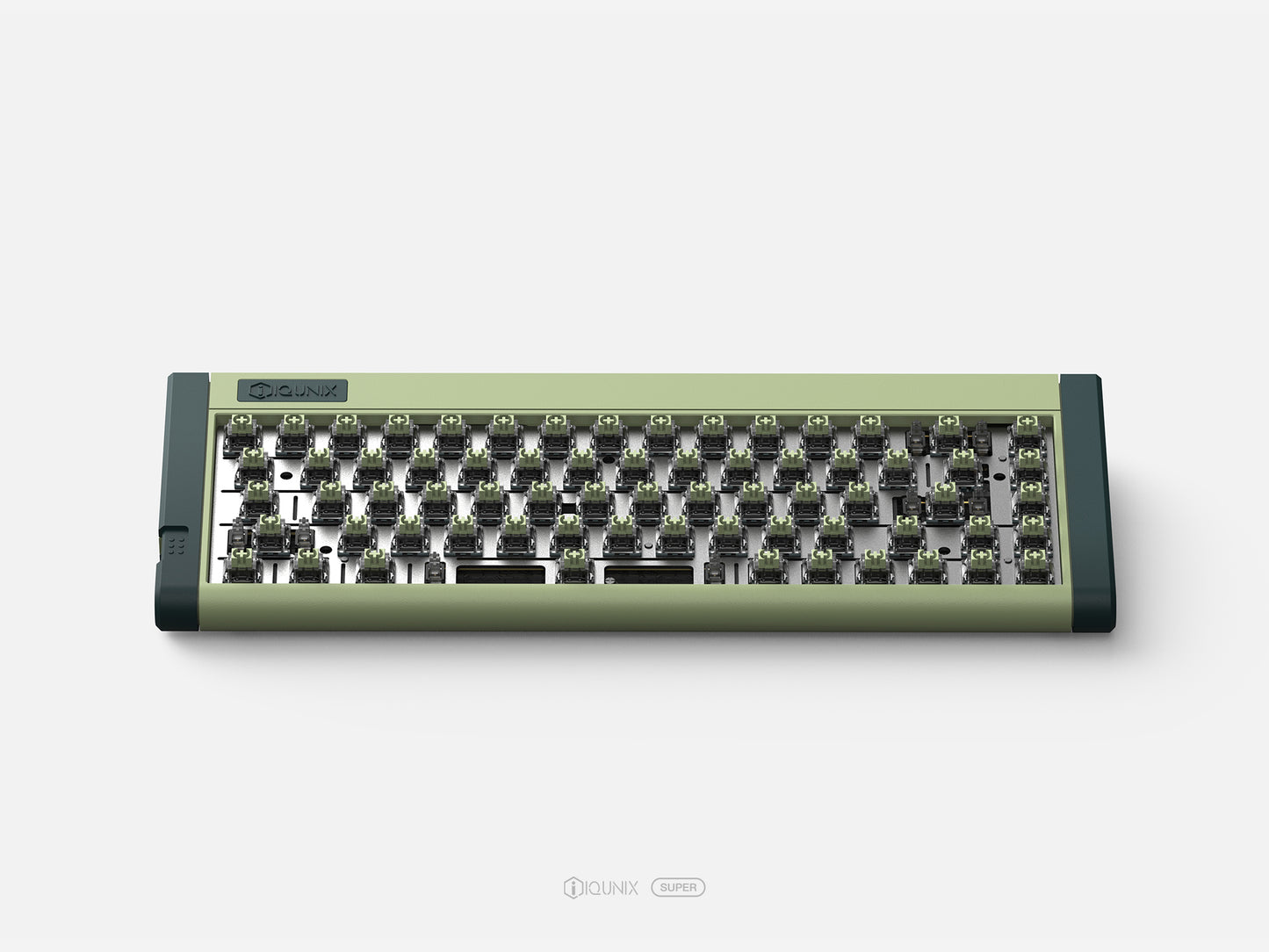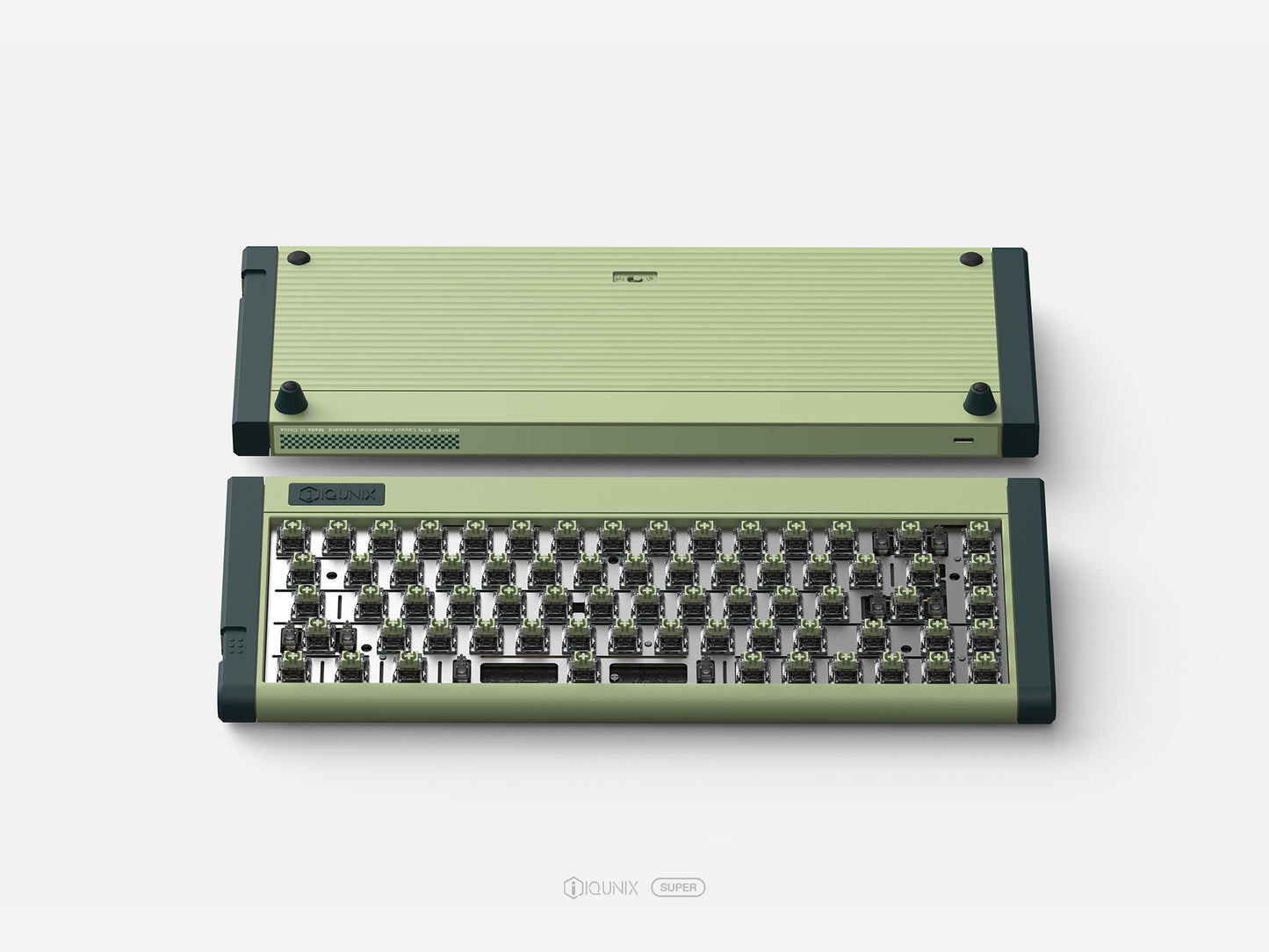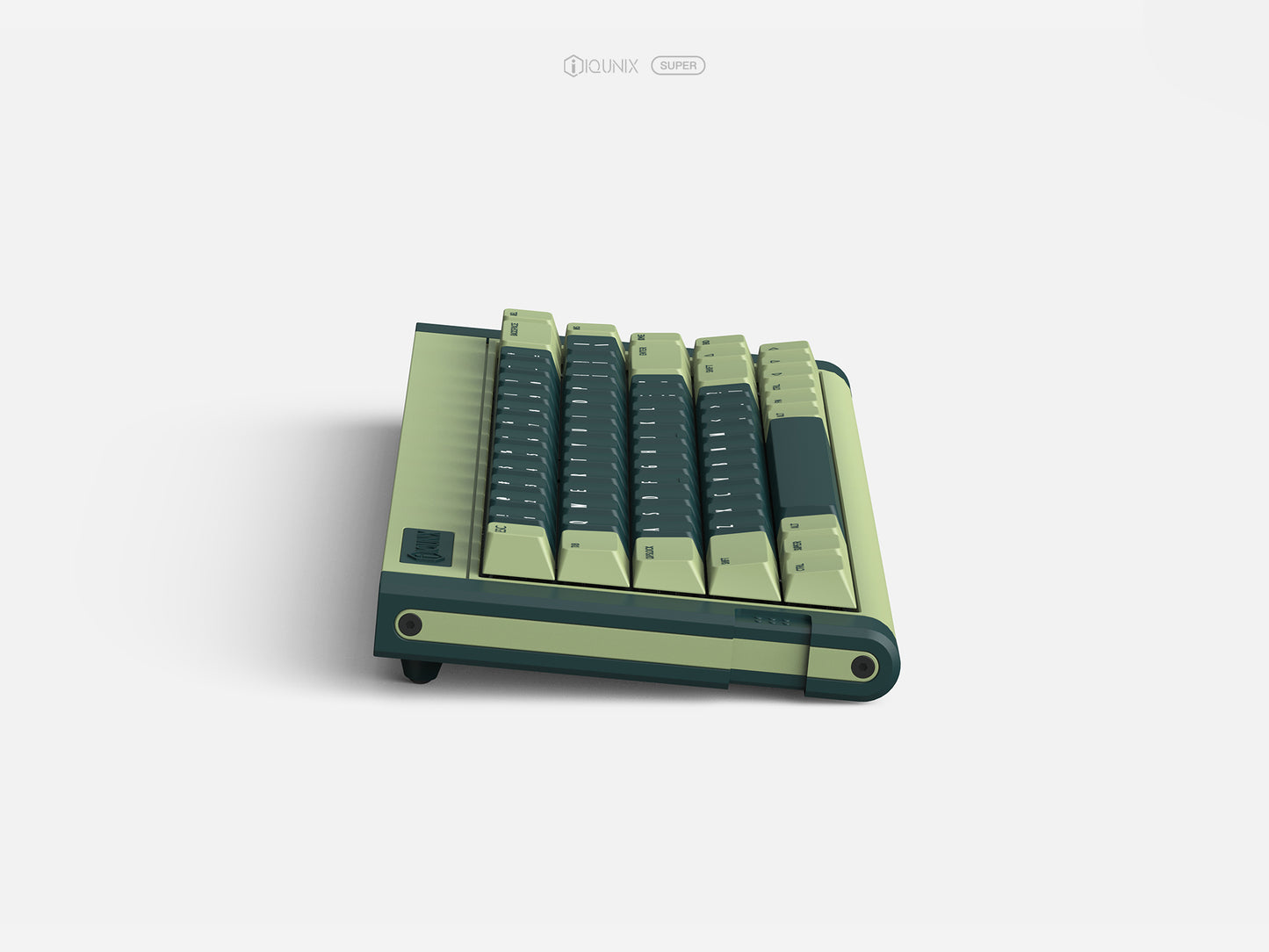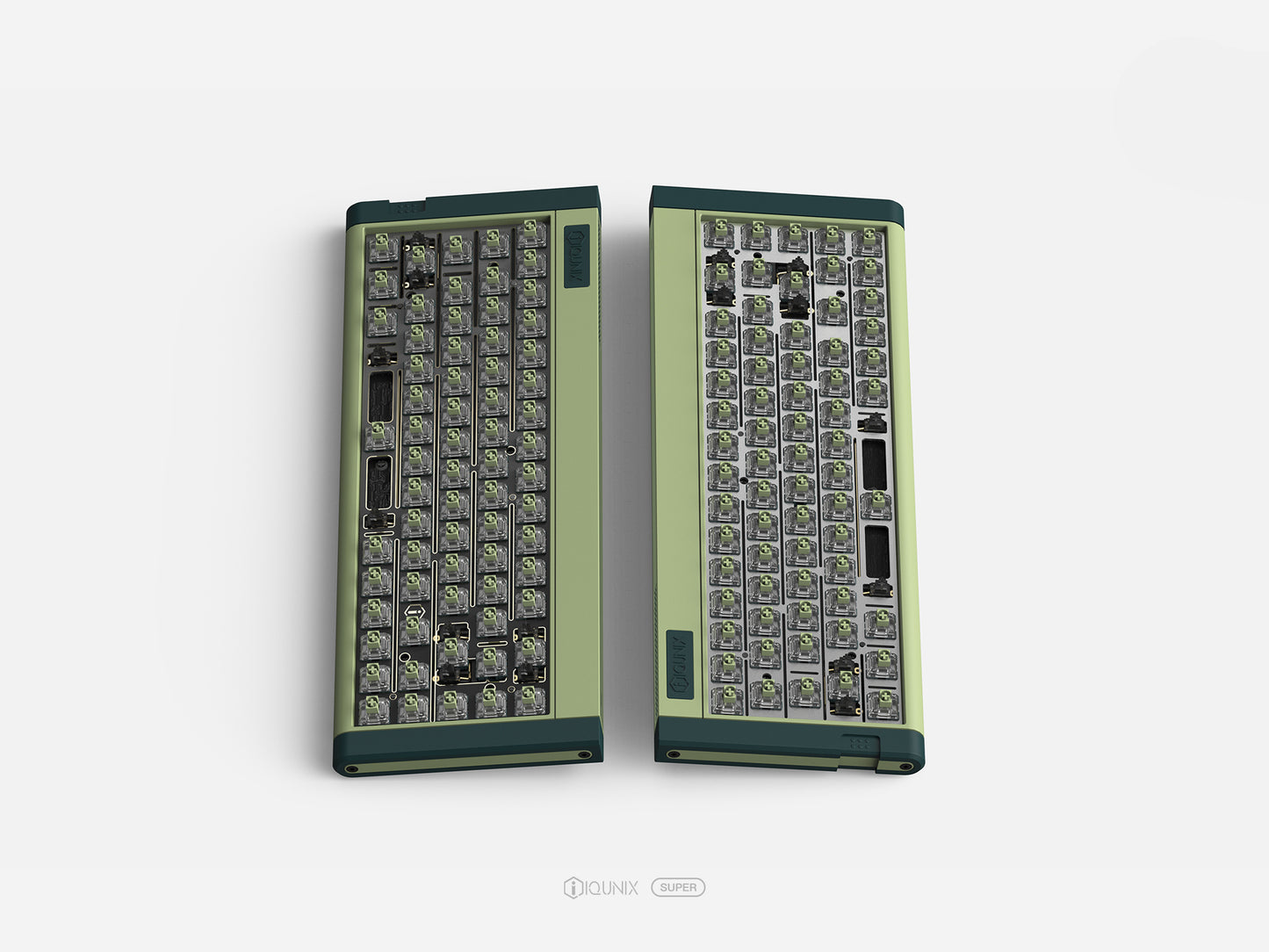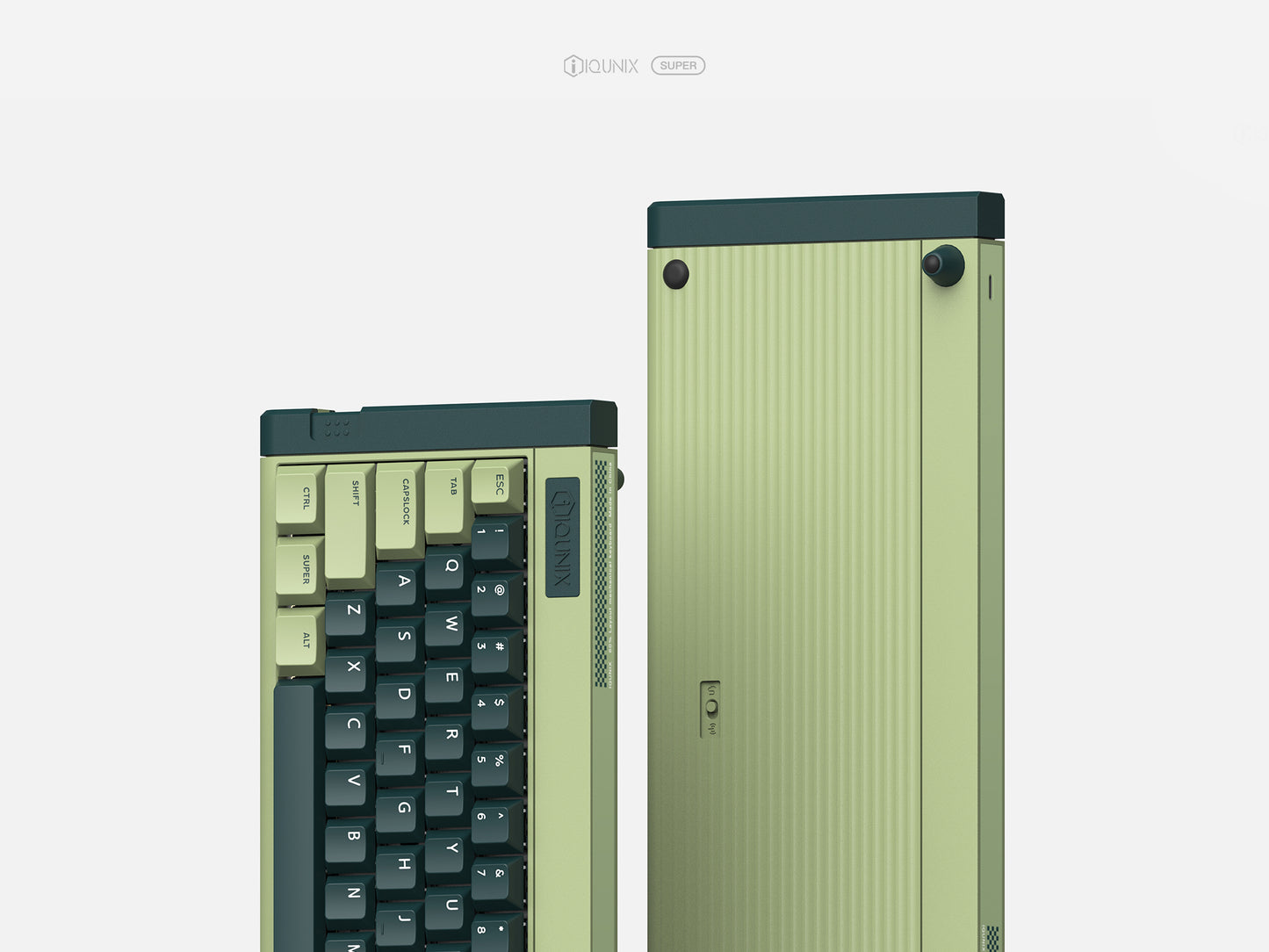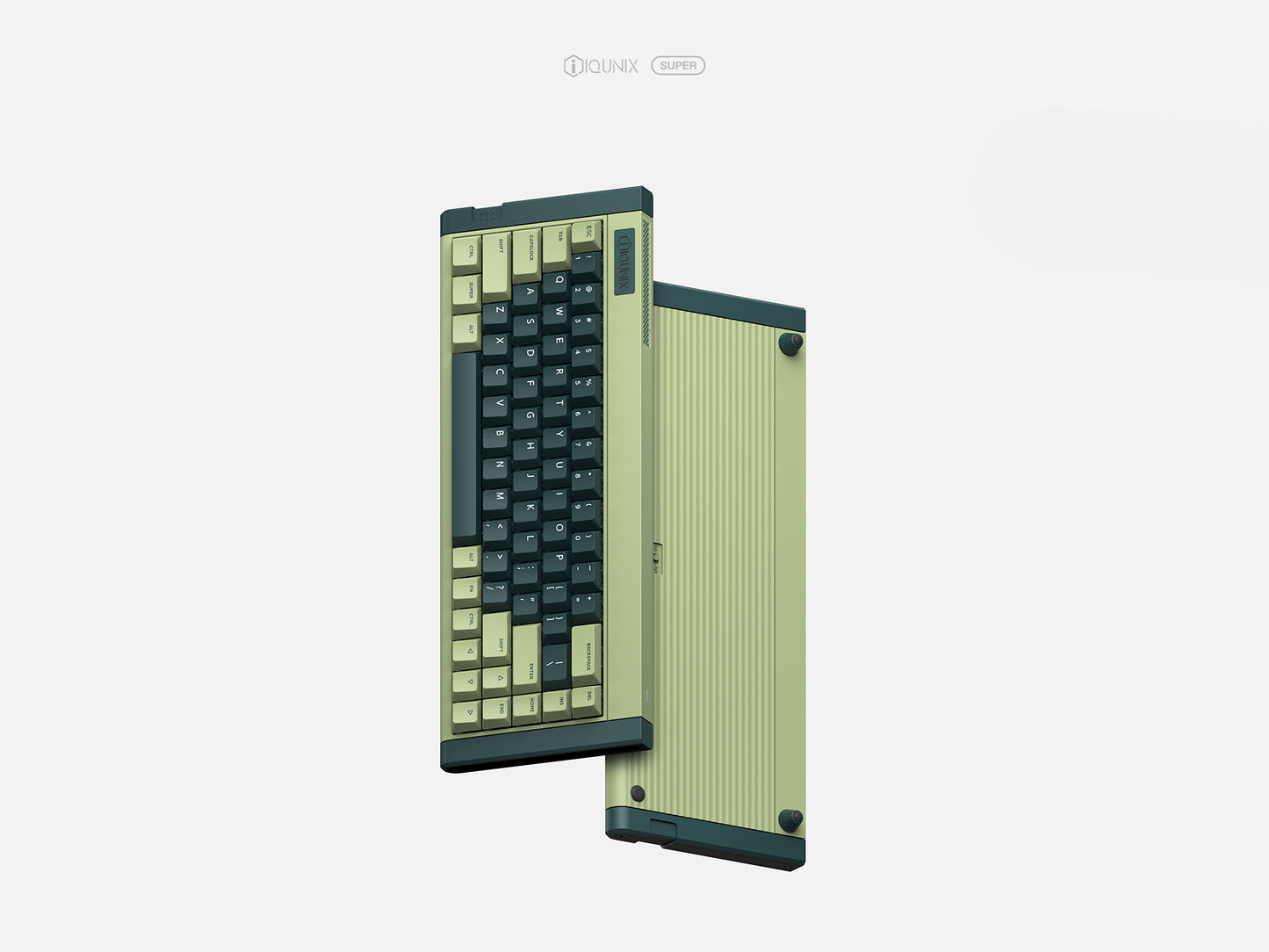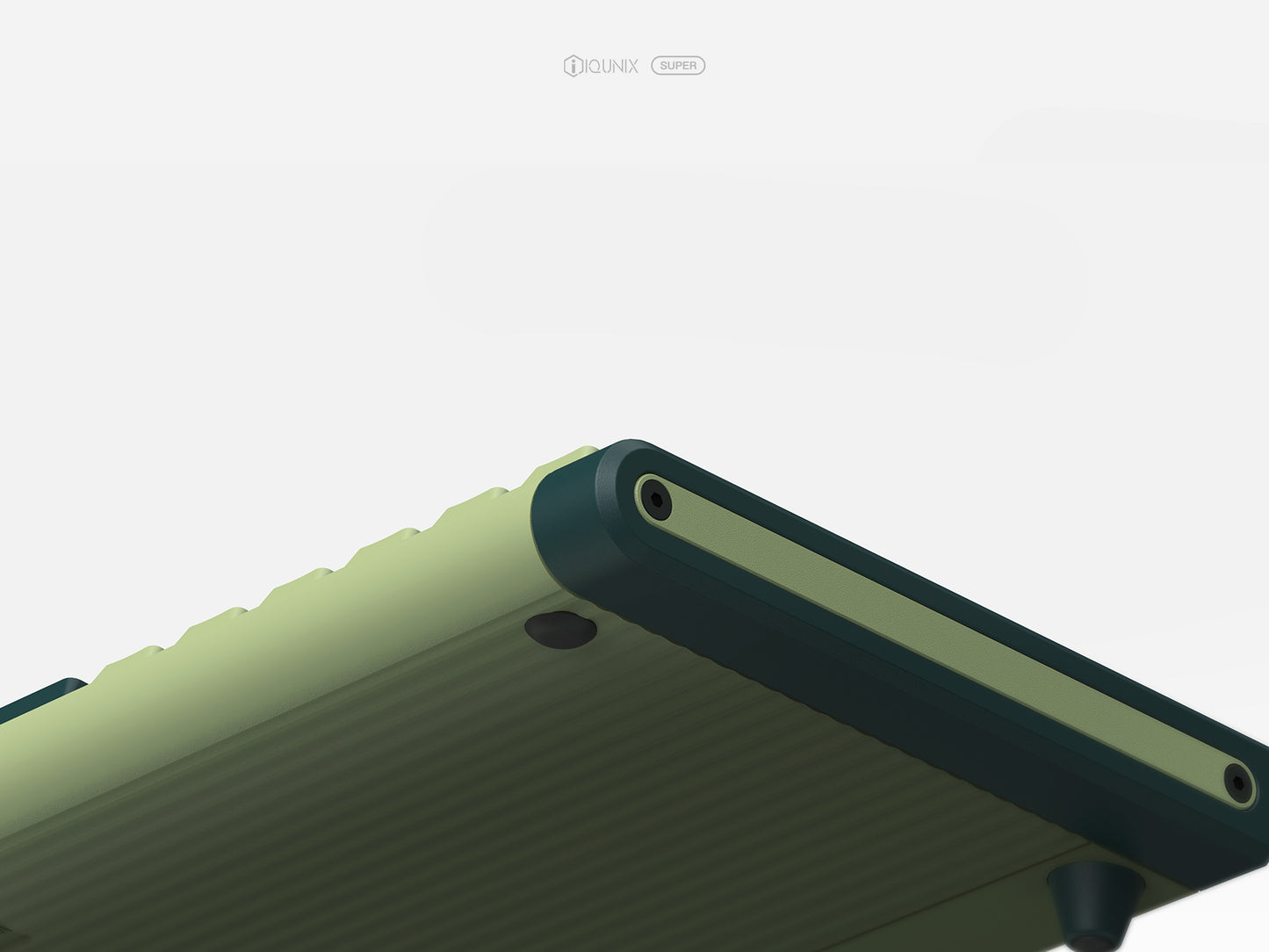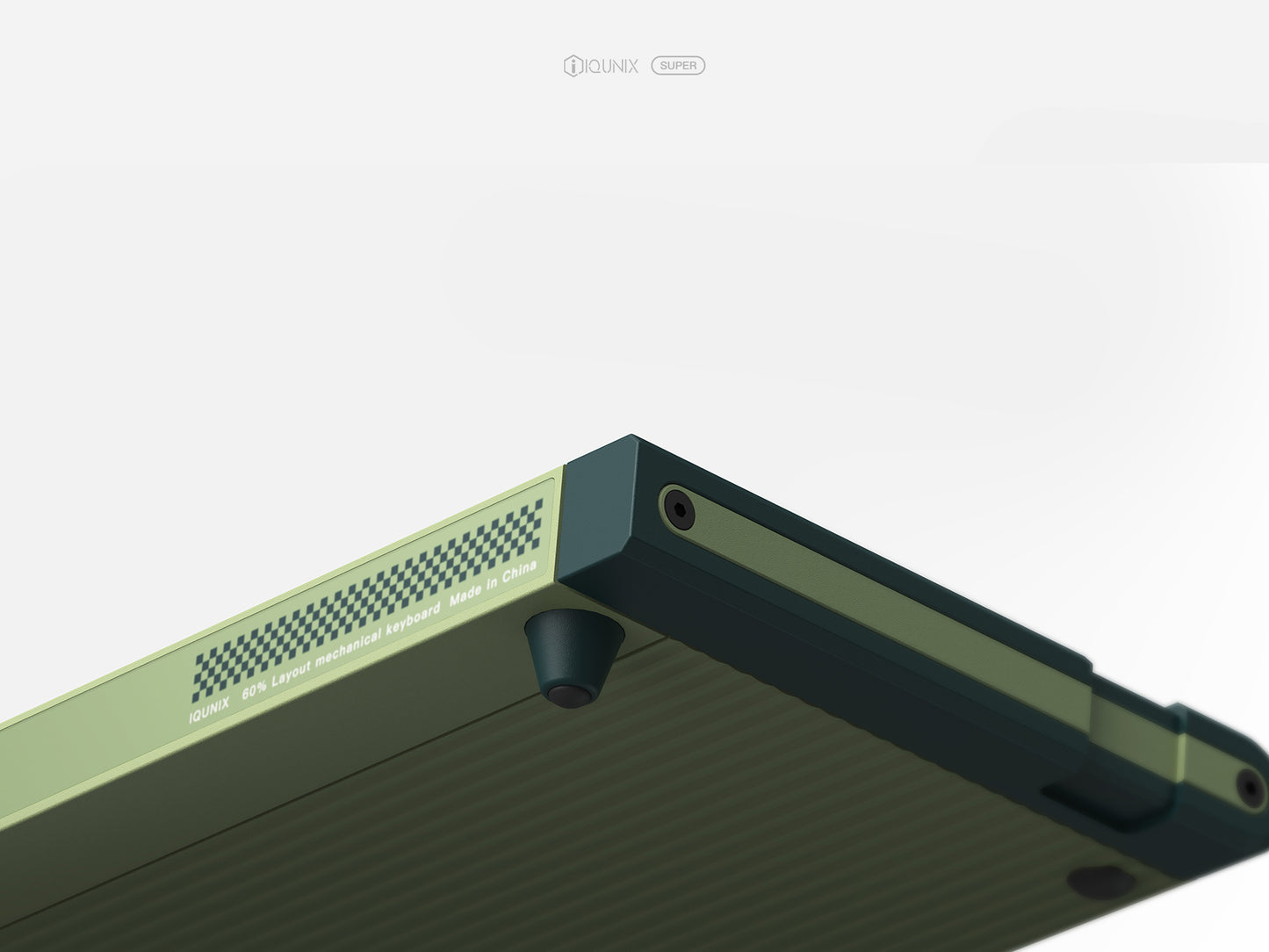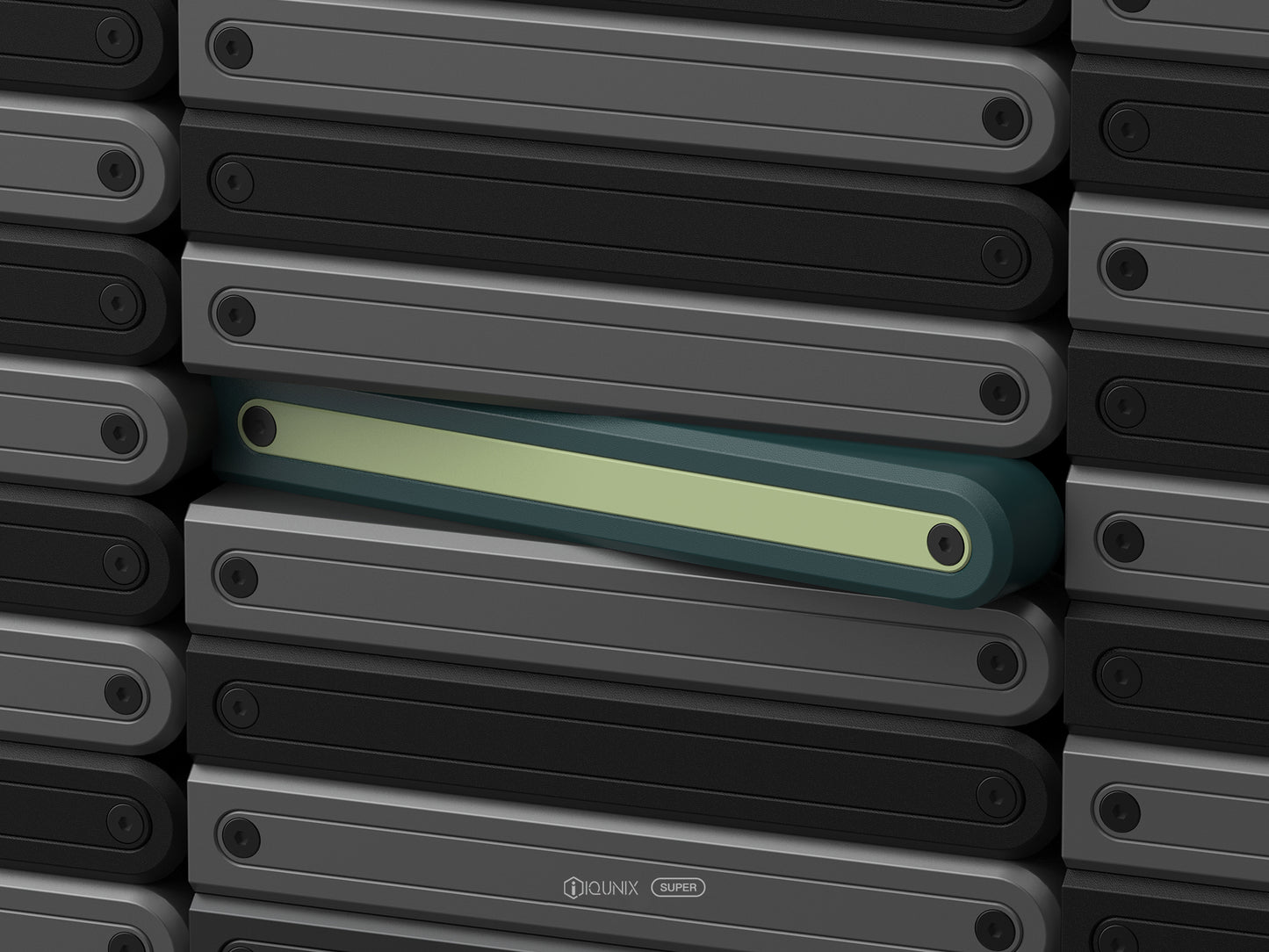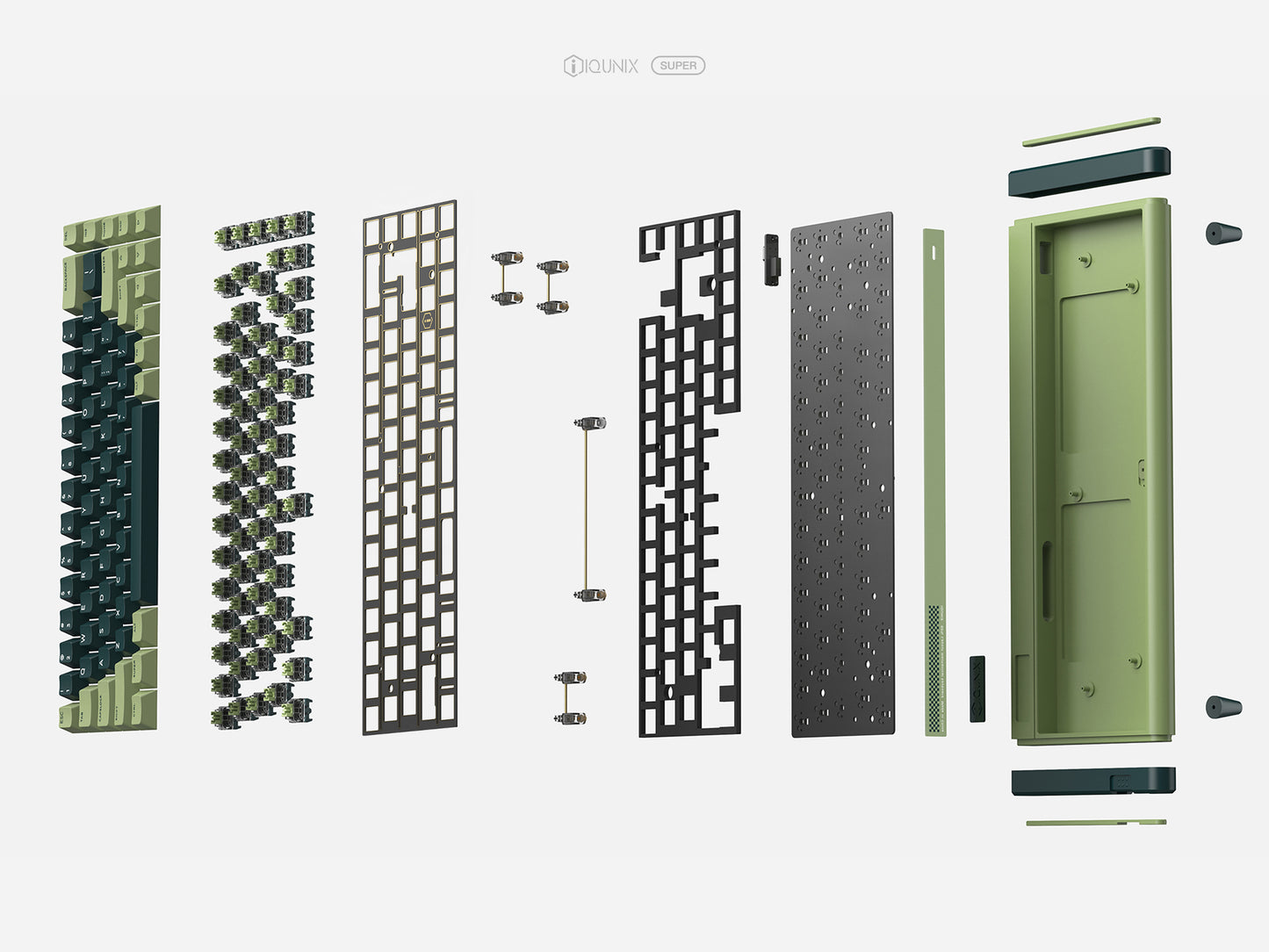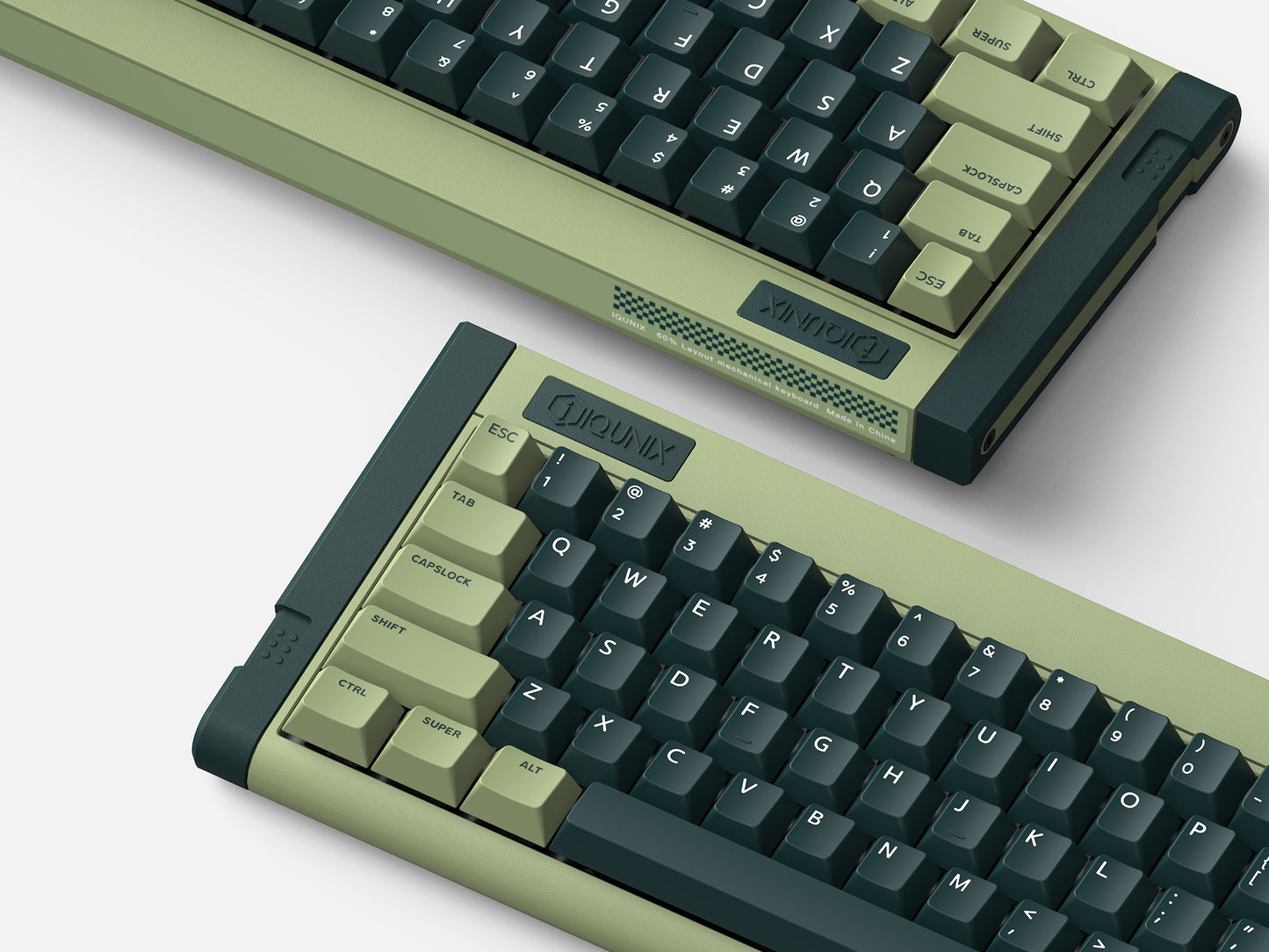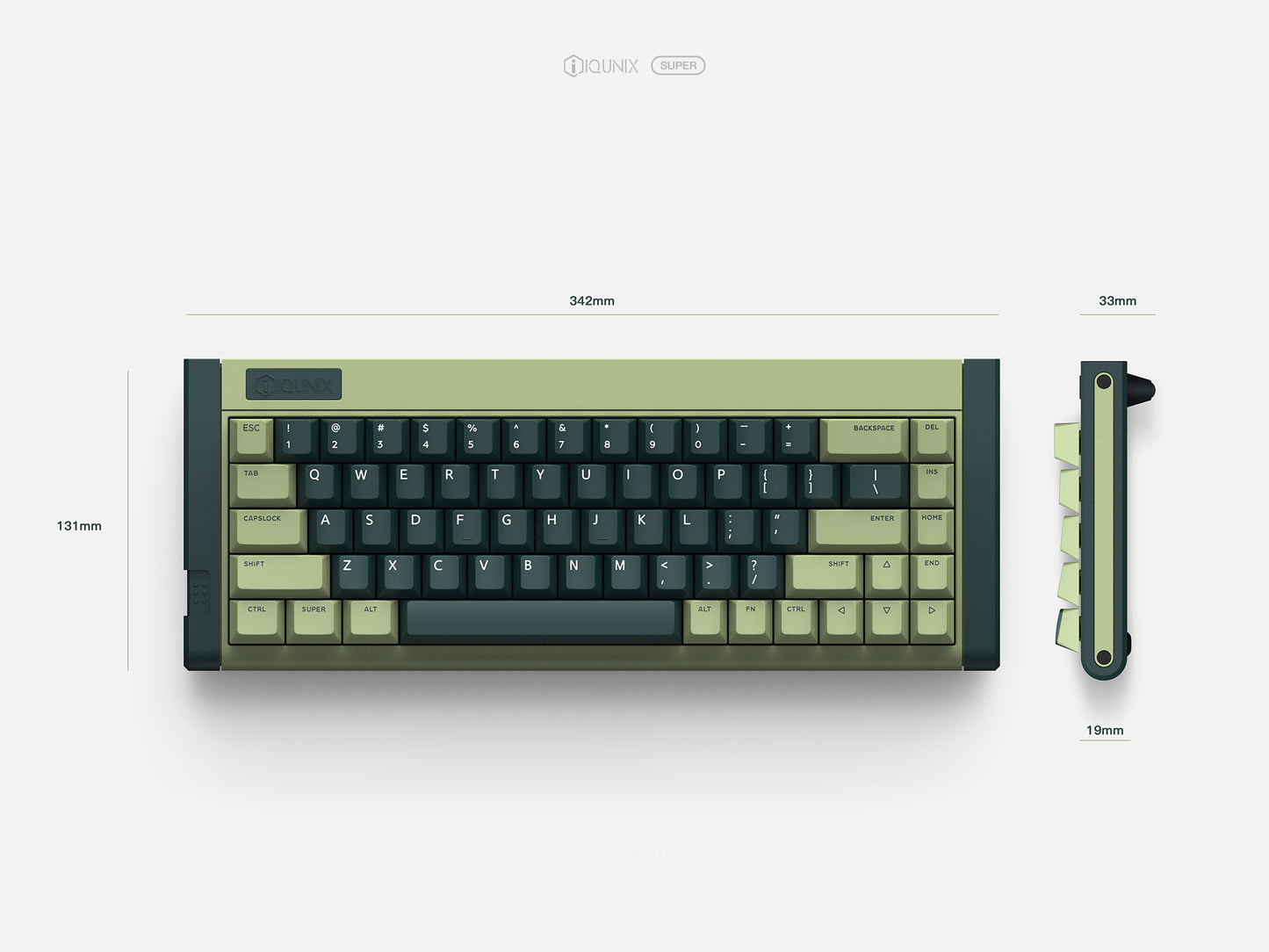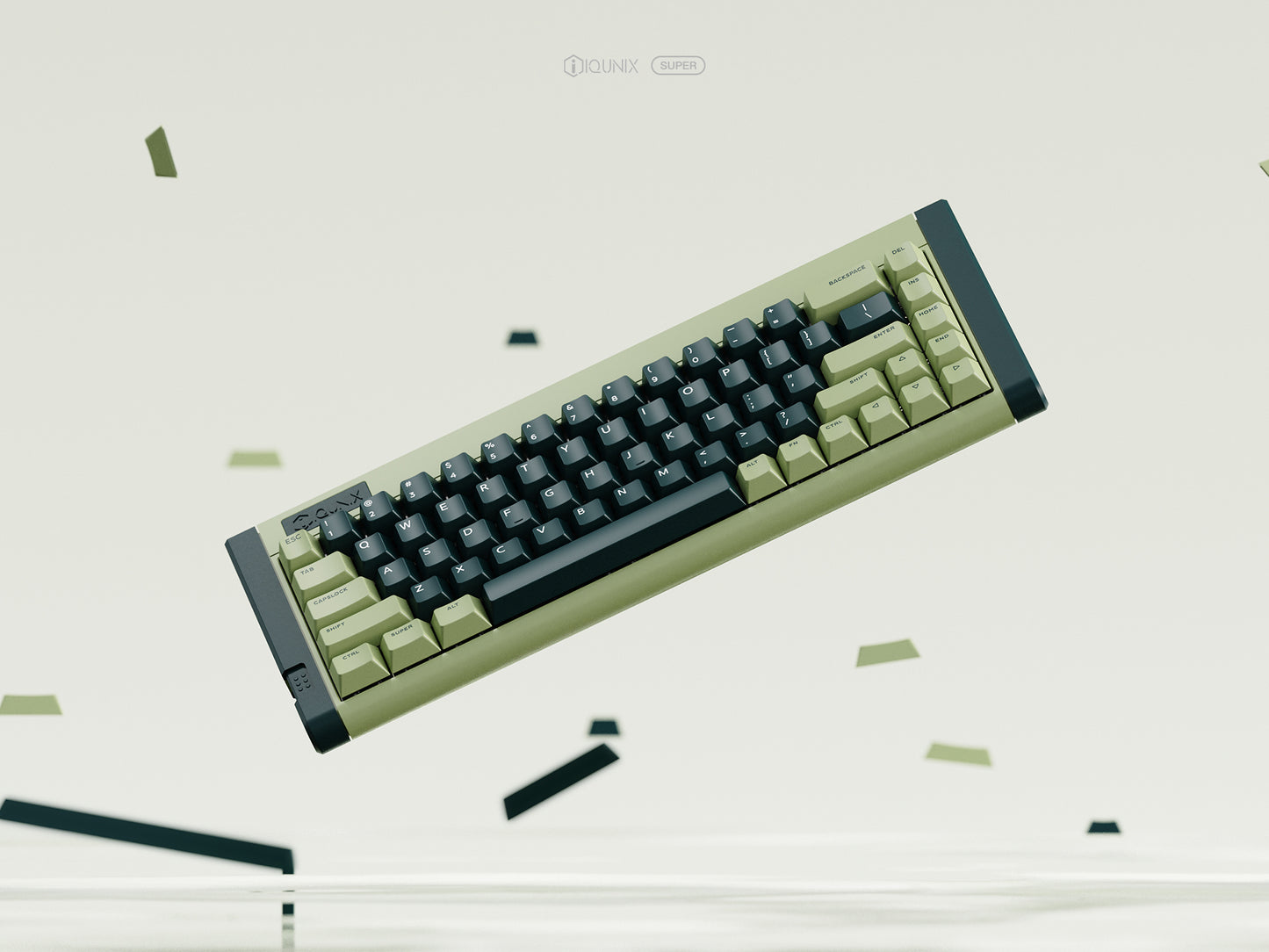 IQUNIX Super Ardbeg 65
Ardbeg 65, is the epitome of compact elegance. This keyboard features a 65% layout design that seamlessly combines functionality with space-saving considerations. The stylish form and captivating blend of deep green and emerald green hues evoke a retro charm.

Impeccable attention to detail is evident in Ardbeg 65's case design, featuring meticulously polished aluminum surfaces. The finely crafted elegant curved surfaces on the front and sides, pair with the prominent green color scheme, making the whole keyboard exudes a vintage sense of sophistication.
Aluminum Case
Crafted from full aluminum materials, Ardbeg 65 provides users with a more Thocky sound and a more stable typing experience by using the best materials and premium craft.
Embark on a distinctive typing journey with Ardbeg 65 and embrace the harmonious fusion of retro aesthetics and modern functionality.
Detachable Decorations
One of the standout features of this keyboard is the detachable decorations on the left and right sides. Not only do they provide visual contrast, but this contrasting style adds a touch of personality and vintage vibes to the overall design.
Different Heights
Furthermore, Ardbeg 65 provides 4 different heights of feet, you can adjust the typing height of the keyboard to deliver the perfect balance you desire. With its compact layout, you can easily access every essential key and improve your efficiency.
Tri-Mode Connection
Multiple connection modes, including Bluetooth 5.1, Wireless 2.4GHz, and USB Type-C. Enjoy stable and fast responses while gaming or working. Allowing pair up to 3 devices at once and switch seamlessly between your computer, tablet, or phone with shortcut commands, which are great for multitasking. It works on Windows / macOS / iOS / Android.
Hot Swappable
The Ardbeg 65 is hot-swappable, and you can easily swap out your preferred mechanical switches on your keyboard without needing any soldering or technical expertise. Everyone can easily build your ideal custom keyboard!
PBT Keycaps
The keycaps are made of PBT and are double-shot, which means the legends are made of a second piece of bonded plastic. They will never fade or shine over time and feel substantial under the finger keyboard.
SPECIFICATION
IQUNIX Super Ardbeg 65
• Tri-Mode PCB with Per-Key RGB
• IQUNIX PCB-Mount Stabilizers
• Keyboard Weight: approx. 1.2kg
• Dimension: 342mm * 131mm* 19mm
• Connectivity: Bluetooth 5.1 / 2.4GHz / USB-C
• Software: IQUNIX Firmware
IQUNIX Moonstone Switch
• Operating Force: 37±5gf
• Total Travel: 3.7±0.3mm
• Durability: 80 million actuations
• Works with any PCB compatible with Cherry-style switches.
• 5 pins can be modified to 3 pins by clipping off the extra 2 pins if need.
PACKAGE
• The package will be assembled into a barebone for delivery.
• Two 2000mAh Li-ion Polymer Batteries will be included.
• The keyboard barebone has included the PCB, FR4 plate, PCB-mount stabilizers, gasket set, and foam kit.
ORDER NOTES
Estimated Shipping Date
Ardbeg 65 is in stock now. We will ship within 3 working days.
Order Cancel Policy
As for Pre-Order items, order cancellations are accepted before the items are shipped out. Otherwise, we do not accept cancellations and refunds once the order has shipped.
Warranty Policy
IQUNIX custom mechanical keyboard comes with a one-year hardware(PCB) warranty from the date of purchase. This warranty covers any defects in hardware under normal use.
If there are any defects related to the craftsmanship of the keyboard, please contact us within 15 days of receiving the keyboard for us to address the issue. Learn more details: Warranty Policy