Regular price
Sale price
$45.00 USD
Unit price
per
Sale
Sold out
IQUNIX Moonstone
Linear 5-pin
Sound: Deep & Thock
Operating Force: 37±5gf
End Force:47±5gf
Pretravel:2.0±0.4mm
Total Travel: 3.7±0.3mm
Durability: 80 million actuations

IQUNIX Moonstone Turbo
Linear 5-pin
Sound: Deep & Thock
Operating Force: 45±5gf
End Force:55±5gf
Pretravel:3.1±0.3mm
Total Travel: 3.7±0.3mm
Durability: 80 million actuations

View full details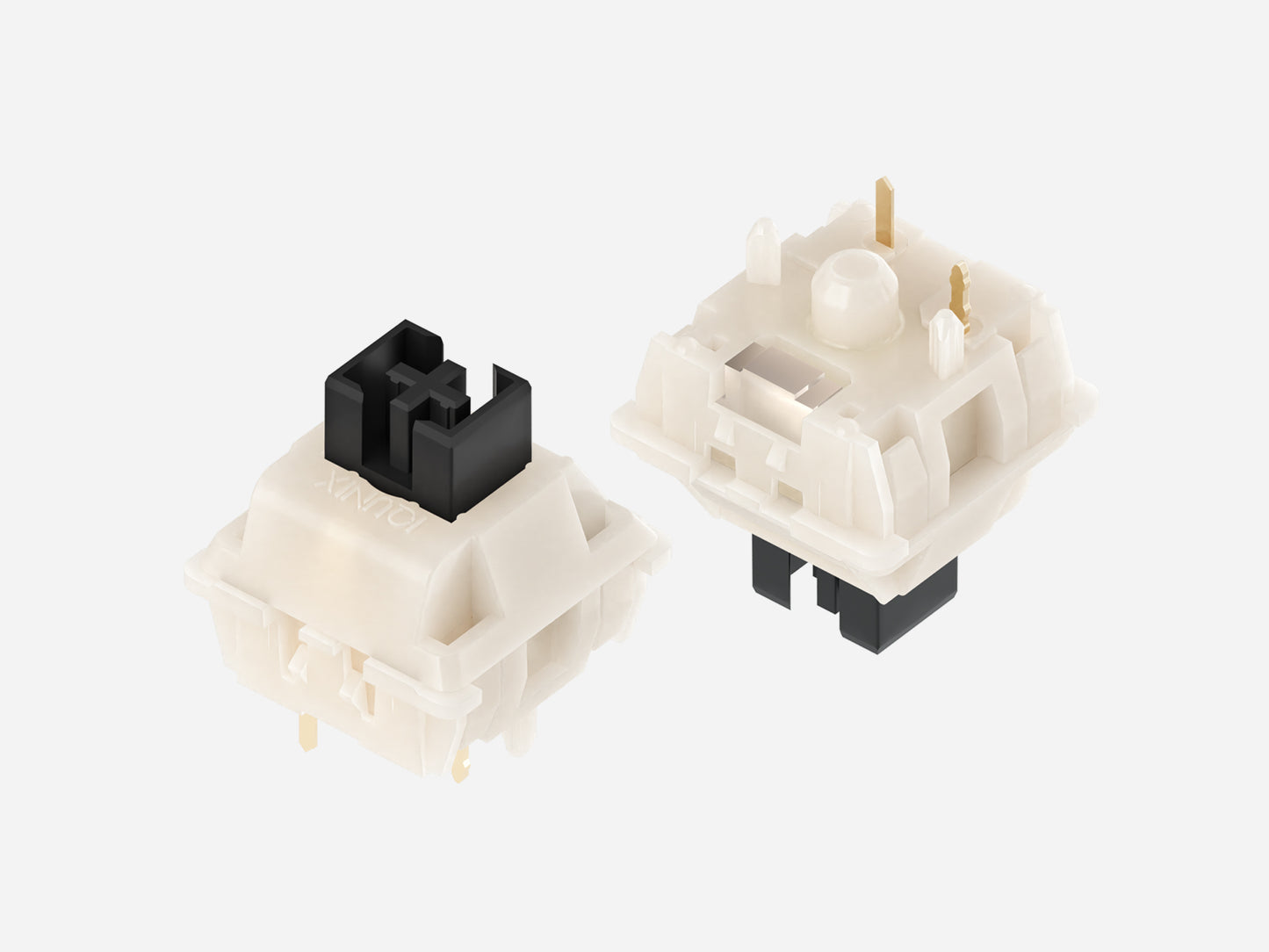 Moonstone
Perfect for work and study.
Moonstone Turbo
More environmentally friendly
POK material is a new, eco-friendly engineering plastic made by combining carbon monoxide, ethylene, and propylene.
More wear-resistant
POK material is incredibly durable, and 14 times more wear-resistant than POM, with the added benefits of low friction and reduced noise.
More Buttery Smooth
POK material boasts self-lubrication and the longer it is used, the more stable and smooth the feel will be.
Higher structural stability
POK material has high structural stability and it maintains its stability even when exposed to temperature changes.
Brighter and Even Light
It comes with a built-in light guide column, which increases brightness by 35%, resulting in a more even and brighter illumination.
Higher Cost But Better Quality
It is more expensive than traditional materials such as POM, PC and nylon. However, its durability and quality are incredible.
Moonstone, our innovative mechanical switch, is here to redefine your typing experience. Just like the precious gem it's named after, Moonstone shines brightly in the world of keyboard switches.
1. Sleek and Elegant Design
Moonstone switches are as elegant as the gem itself. Their sleek design adds a touch of sophistication to your keyboard.
2. Smooth and Quiet Typing
Enjoy a smooth and virtually silent typing experience with Moonstone switches. No more loud keystrokes to disturb your surroundings.
3. Durability
Moonstone switches are built to last. Their advanced POK materials and design make them more durable than traditional switches, ensuring a longer lifespan for your keyboard.
4. Luminous Lighting
Just like the moon, Moonstone switches come with luminous lighting, enhancing your keyboard's aesthetics. Their built-in light guide column boosts brightness by 35%, providing an even and vibrant illumination.